Increase your profits by reducing your returns
Every company, no matter what its industry, builds a reputation over time for delivering high-quality goods and/or services.
Maintaining those high standards is what's important.
Our team of experts at MCR are on hand to operate as an extension of your business, providing invaluable professional quality inspection services. We can isolate, segregate, sort and re-collate a product, then repackage it ready for sale.
On request, we can also provide detailed reports with our findings.
Quality Grading or Quality Inspection
Our quality grading or quality control service provides clients with a reliable source for ensuring products go to sale in perfect condition. We find that our quality inspection service works particularly well with clients that have goods delivered direct to MCR from overseas.
To a clients' strict specifications, we perform a quality inspection on a sample selection of goods, grading each item to provide our client with evidence as to whether the full shipment should be passed or rejected. This process helps underpin the procedures you have agreed with your overseas supplier and works as part of the foundations to your quality procedures.
Rework
When products arrive into the UK and issues are uncovered, adjustments need to be made in order to make them suitable for the retail environment.
With strong connections to the transport and logistics industry, MCR Services eliminates this risk by providing a complete service cycle from quality grading right through to transport, so you only have one number to call rather than spending time trying to locate your goods through various suppliers.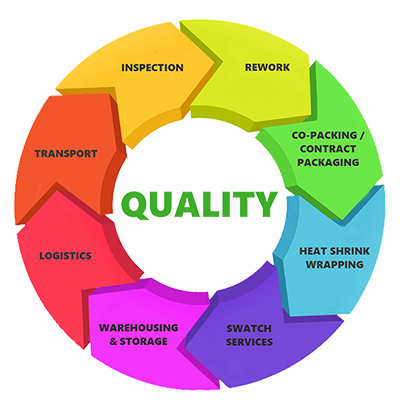 Our team can react quickly to bring your products back to life and ready for sale. Over the years we have helped clients with projects covering furniture, soft furnishings, accessories, homeware, toys and confectionary.
Our rework has included damage repairs, mould and stain removal, sewing repairs, re-labelling, packaging replacement and repacking.
With facilities to accommodate any of these rework requirements we can take on any job, large or small. We can be flexible to your business objectives should you prefer our team to work on your premises.